---
Distance
---
4 km by bus, 1.5 km to the castle on foot
---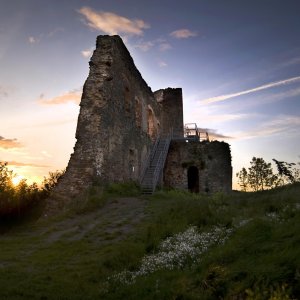 On the bus route there is a lecture about the place and it's surroundings. From the foot of the Krasíkov hill we will follow the road to its top, where the Švamberk castle stands. In the bailey you can see a church with a former defense tower. You can also climb up the lookout tower, where you can enjoy amazing view of the surroundings. When returning, you may visit a soap shop in Krasíkov.
You may come back by a bus again.
NOTICE
The pace of walking is subject to the individual physical dispositions of the participants. The guides always try to accommodate any need for rest on the route. The destination and the route of the walk may change based on the wishes of the participants. The times and distances shown are informative.
---